"As timely as it is thoughtful." - Kirkus Reviews
In these stories about the fictitious mill town of Furnass, we see characters from the Books of Furnass series seeking closure or meaning from earlier events as they continue to live their lives. In counterpoint to these stories of a mill town struggling to survive without a mill, there are portfolios of photographs taken by the author of the region in the mid-seventies when the mills and valley towns were flourishing. The book concludes with a Coda, an origin story of the time before there was a town here when a chief of the fictional Onagona Indians has to choose between expediency and survival when confronted with the spiritual.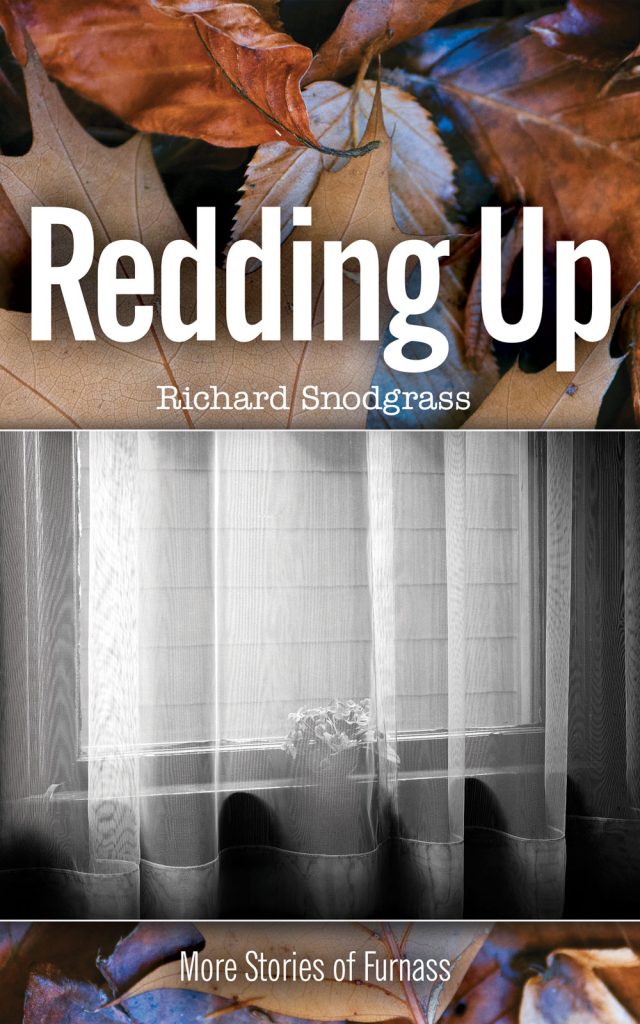 Here's a video introduction to the mill town of Furnass.
Reviews, Extra Scenes, etc.
Full Review – Self-Publishing Review
SPR RATING: 4.5 stars (out of 5)
Richard Snodgrass seamlessly plunges readers back in time with his latest collection, ReddingUp, unveiling more incredible stories from the fictional mill town of Furnass.
Rich characterizations and powerful (yet broken) figures populate these stories, particularly in "Remaindered," one of the strongest in the collection. In this hard-edged snapshot of life, a local woman named Carl Brossick confronts a disgraced ex-minister about a horrific sin of his past, even as she tries to overcome her own demons, and keep her aging head above water.
"Her Father's Daughter" starts readers off with a story of homecoming, of a prodigal daughter whose presence stirs up dark feelings in a town already drained of its glory. With touches of Thomas Wolfe, she undergoes the struggle of saying goodbye to memories, and trying to leave regrets behind. Old family secrets come to light, and Jennifer is reminded of the importance of roots, legacy, and having control over your own story.
The undeniable writing skill and the blunt brilliance of description continue from the author's other work, sneaking up on complacent readers with lines that absolutely sink the stomach. The best of Snodgrass' stories are raw in their detail and vulnerability, capturing the suffering of an era not so long ago, in the kind of town many readers may recognize with a grimace or shudder of memory.
As is true in all of Snodgrass' Furnass writings, the prose is an honest lament for a time long past – a regional saga detailing the painful process of having its heart abruptly torn out. After ten books in this series, there still seems more to tell, as tragic tales of this kind number in the thousands, while the author's on-the-ground experience gives some sense of the sprawl of this industrial dry-out. The small mill town of Furnass has transformed before readers' eyes throughout this extended body of work, and it summons thoughts of our new generation of industrial turnover. The same battles are being waged on small-town streets across America to this day, as the world changes at the speed of light, making the book timely in any era.
The stark and well-curated photography that accompanies this collection sets a powerful mood, even before the first story begins. The interludes of "When There Was Steel" are a potent palate cleanser, re-immersing readers in the aesthetic of the collection, making it easier to slip into each new vignette. The simple framing, caption-less presentation, and broad variety make for an ominous but thought-provoking experience, from religious iconography and empty bedrooms to industrial landscapes and home portraits hinting at the coming ruin. When combined with the gritty nuance of the prose, these photographic pairings are amplified even more.
There are very few technical concerns, though some of the extended sections of exposition can slow the pace, as there are occasional moments of rambling or unfocused prose. As always, however, Snodgrass effortlessly transports readers into the longing hearts of a blasted town, for a powerfully written addition to this now-epic series of quintessentially American writing.
Full Review – IndieReader
IR RATING: 4.5 stars (out of 5)
Melancholic and poignant, Richard Snodgrass' short story collection REDDING UP is a testament to the perseverance of the human spirit.
A retired cop who shot the wrong man meets his widow. A daughter deals with her family's legacy and basement trash. A military veteran lives his one last, chaotic day on Earth. These are the stories of Furnass, Pennsylvania – a town of regrets, memories, and, sometimes, forgiveness.
The town of Furnass is dying. Since the steel mills closed in the 1980s, people have been leaving. Nowadays, Furnass is a shadow of its former self, haunted by the poor, the sick, and the old. A retired police detective who once mistakenly shot a man. An elderly veteran living through his final days. A former pastor atoning for his past sins. The best they can expect is closure. The short story collection REDDING UP (More Stories of Furnass, Book 10) by Richard Snodgrass deals with people and lives many would prefer to ignore, afraid their misfortune might somehow be contagious. They would be wrong to do so. This book is a testament to the resilience of the human spirit which author sketches with vivid portraits of flawed and all-too-human characters. Their hardships made them tough and gave them a unique capacity to accept change – sometimes despite themselves. Snodgrass complements his stories with black and white photographs of Pennsylvania towns that inspired his fictional setting.
The title of the book comes from the expression meaning to clear things up – and it feels that way. These are tales about memories, regrets, and earning (or offering) forgiveness. On another level, REDDING UP feels like Snodgrass is tying up loose ends. Throughout stories, he invokes characters from his past works set in Furnass: Reverend Bryce Orr, Vietnam War veteran Paul Slater, and families Sutcliffe and Lyle. Such an approach is both a virtue and a flaw. Placing REDDING UP in a broader fictional universe adds more depth to the book. However, the unfamiliar reader will miss out on this rich layer of meaning. The author's website provides practical information about his setting, including maps, but that isn't the same as the experience of reading his other books.
There are a few technical issues. Snodgrass' style leans toward long, occasionally rambling sentences. While this makes sense for stream-of-consciousness parts, it results in some awkward dialogues. There are missing words as well: pronouns, verbs, etc. But aside from these minor quibbles, REDDING UP is a small miracle. It is a sad, memorable, and humane testament to the innumerable post-industrial tragedies of the Rust Belt. These stories may be as removed from the American Dream as they can be. But they are of the American Reality.
Melancholic and poignant, Richard Snodgrass' short story collection REDDING UP is a testament to the perseverance of the human spirit.
~Danijel Štriga, for IndieReader
Full Review – Kirkus Reviews
Snodgrass presents a collection of linked short stories that revolve around a failed steel town in Western Pennsylvania.
As the author observes in a prefatory note, the once-booming steel mills in the Keystone State began to go bust in the 1980s, and with that lost prosperity, an entire way of life vanished. Here, he offers elegiac tales set in his struggling fictional town of Furnass, outside Pittsburgh; one of them, "Coda," is a short story, while the others, including the titular work, are novella-length. In the first, Her Father's Daughter, Jennifer Sutcliff seems set on severing her ties with Furnass forever; she reorganizes the real estate company that her father, Dick, built and controversially sells the land upon which he built it to an industrial park—a move that her mother feels is a dismissal of her father's legacy. Jennifer then sets her sights on Pamela DiCello, the woman for whom Dick left his wife, and discovers a legal way to divest her of the trust Dick established for her. However, Jennifer finds herself moved by Pamela's account of her relationship with Dick as well as her attachment to the place in which she lives: "I left a luxurious all-expenses-paid town house and way of life in upscale Seneca to live in this narrow frame insul-brick-covered hundred-year-old house in a dying mill town….This was my parents' house, Jennifer; after they both passed I had trouble thinking about it just sitting here on its lonesome."
Snodgrass affectingly portrays an increasingly obsolete notion—an unbreakable attachment to one's home—in a world of peripatetic cosmopolitanism. However, the stories aren't simply set pieces meant to present a philosophical theory; the author provides a powerful defense of locality by training his attention on a particular locale and not an abstruse polemic. Herein lies the principal strength of Snodgrass' collection, in that he presents a series of protagonists trying to flee their homes but who are drawn back by powerful, if mysterious, forces. For instance, in the book's title story, Allison Lyle returns to Furnass from Washington, D.C., in order to settle her recently deceased father's "haphazard estate." She hires local Kevin McCallum to clean out a chaotic, overstuffed basement; he's depicted as essentially the opposite of Allison, as someone who's so attached to Furnass that he labors to preserve its disappearing past. Allison finally learns that she never really knew her father; he had a secret life, one that was admirably honorable. But instead of pride, this discovery fills her with a "tremendous feeling of loss, a feeling that she had missed something important in her life." It's a revelation that Snodgrass movingly relates, and it's one that readers will find especially poignant, as Allison lives something of a secret life of her own. Overall, this assemblage of stories is one that's as timely as it is thoughtful—a meditative counterweight to stories by authors preoccupied with wanderlust.
A poignant and intelligent set of tales that effectively thematizes the importance of place.